MONDAY, AUGUST 12, 2013 | Comments:
5
When I saw Stephanie Heredia's home for the first time, I knew I had to share it with my readers. Together with her husband Bilal and daughter Mia, she has created a space that is full of love, personality and life. Take a look at it with me…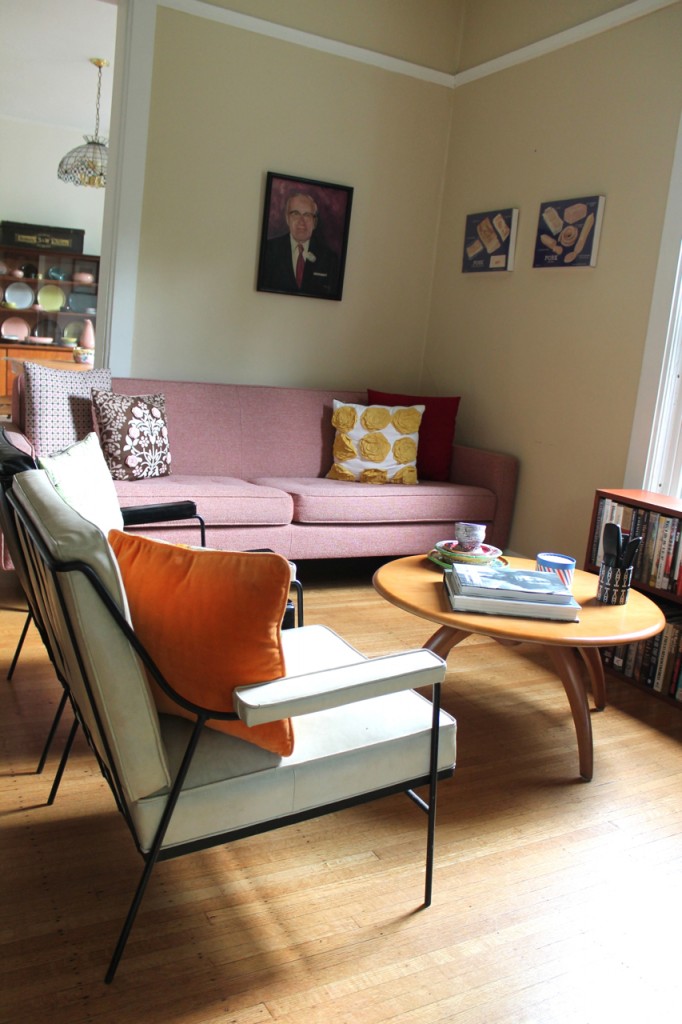 Who lives here?
My husband and I live here with our 10 year old daughter.
How would you describe your style?
I would describe our style as eclectic. I like a mix of things- thrift store items next to designer pieces, original art next to vinyl toys- that kind of thing.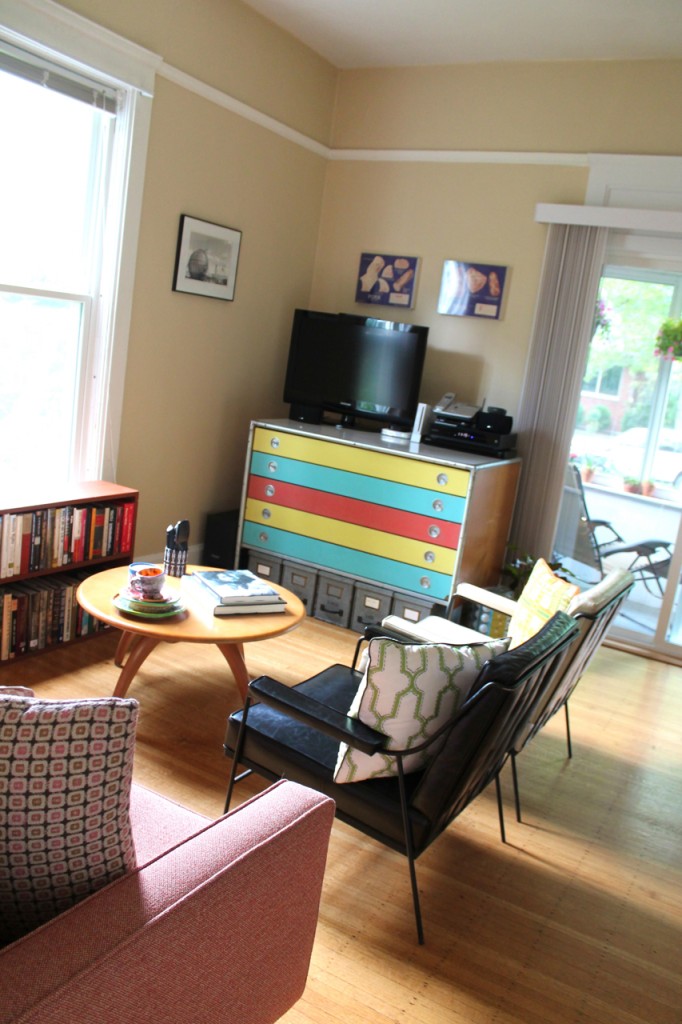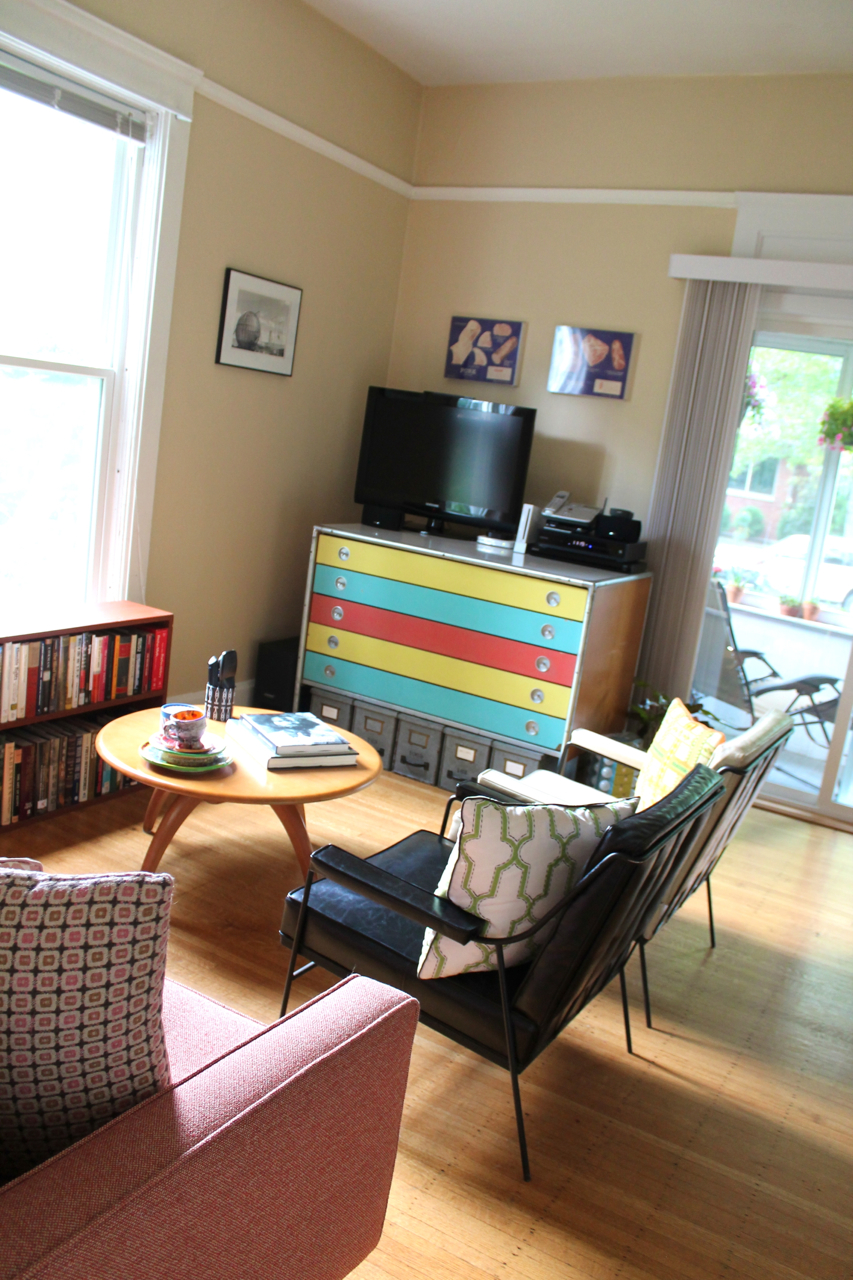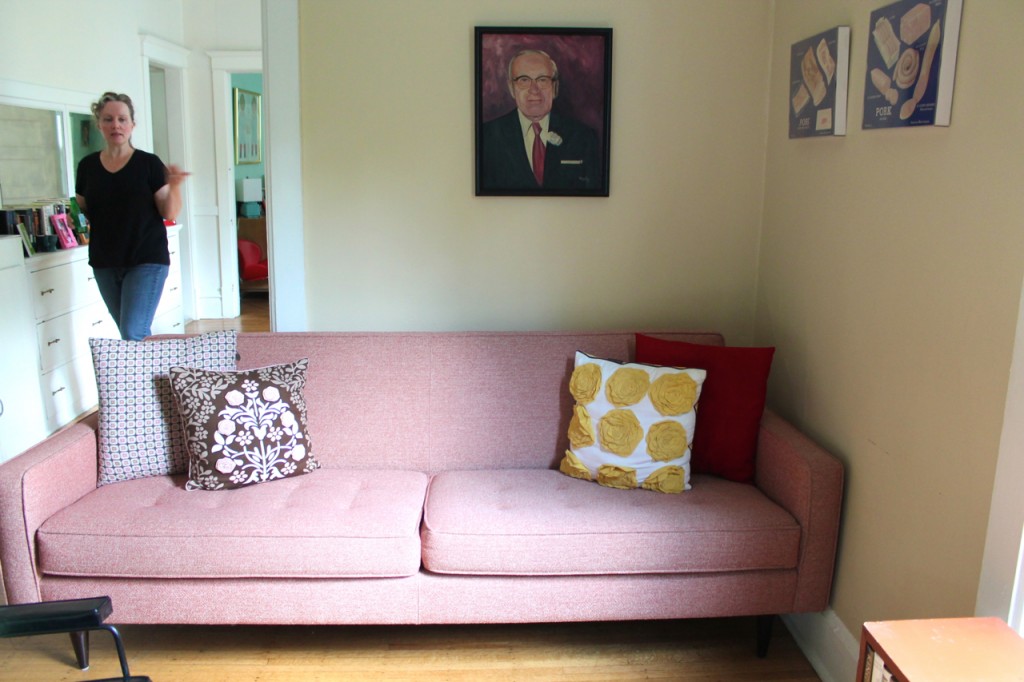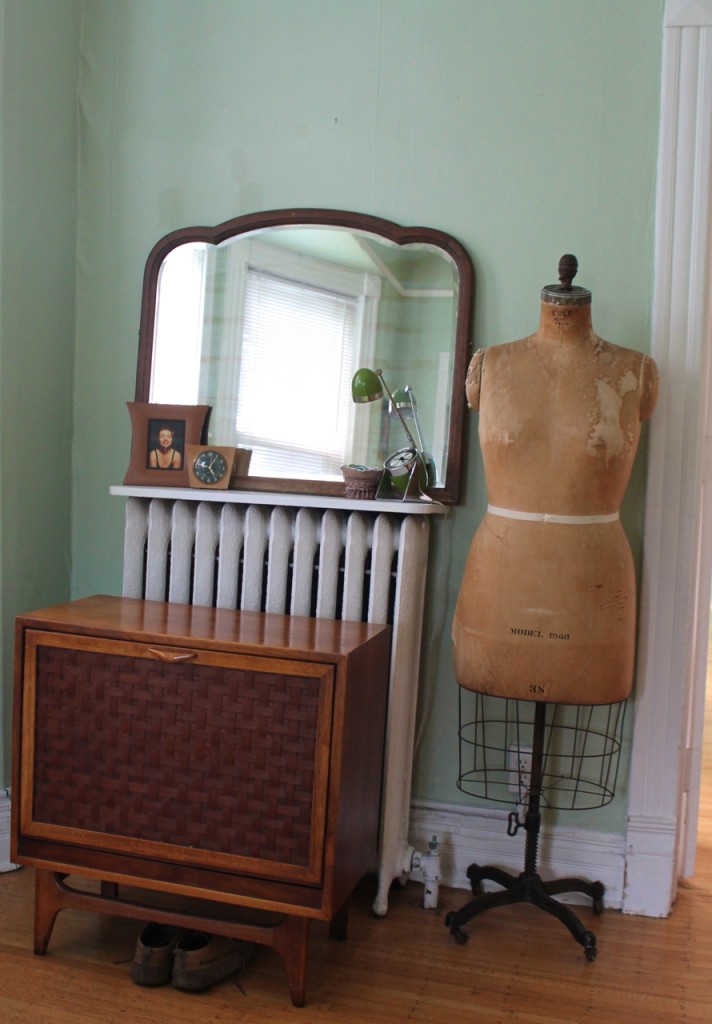 I've noticed you have a lot of clocks in your home – what is the attraction?
Not sure. We've just found a lot of cool ones over the years. Maybe because the faces are like faces? Did you know when clocks are photographed they usually show the time 10:10 or 1:50 so they appear "smiling"?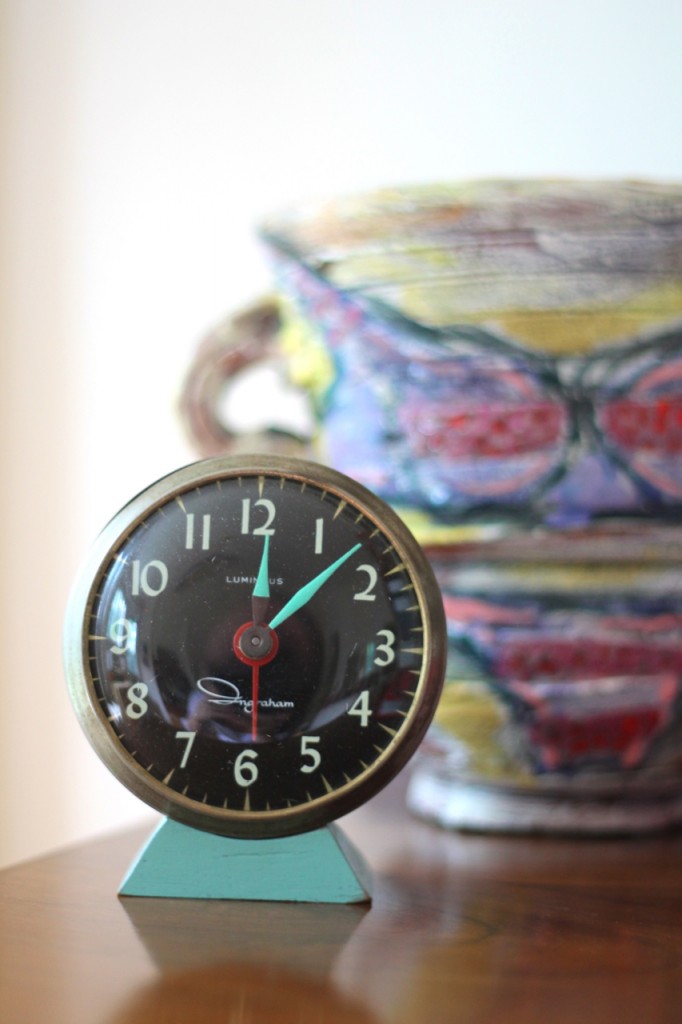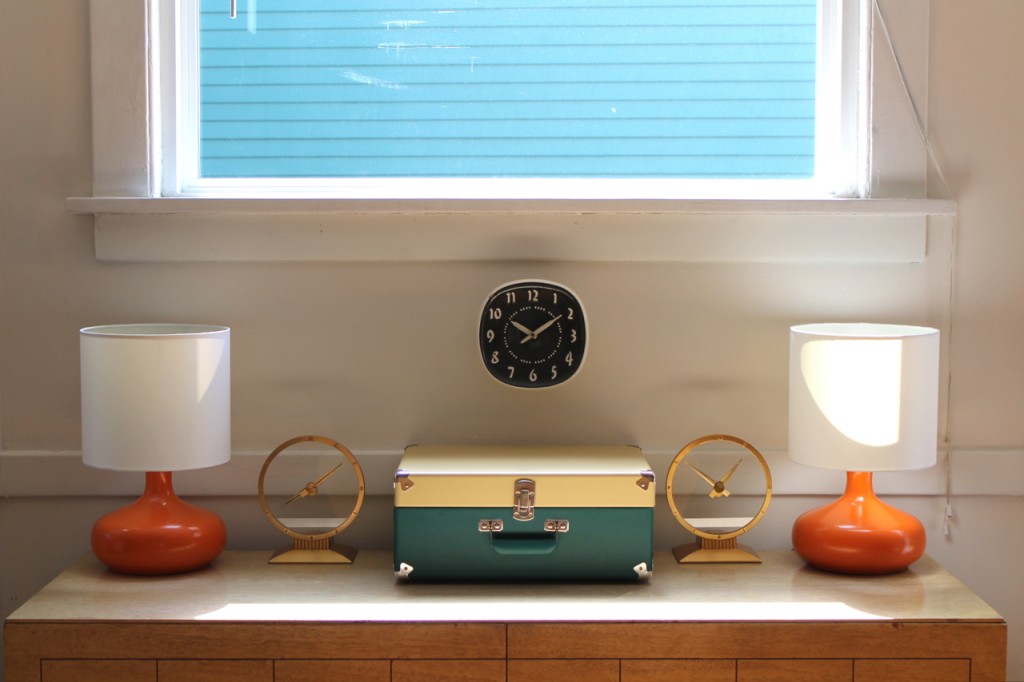 Where is your favorite place to shop for home décor?
Thrift stores and antique stores. We've gotten some great things at Eureka on Washington here in Evanston and at Swantiques on Central, also here in Evanston. Bilal is from Michigan so whenever we go there to visit we try and make it to Bay Antique Center in Bay City Michigan. It's a huge place full of treasures.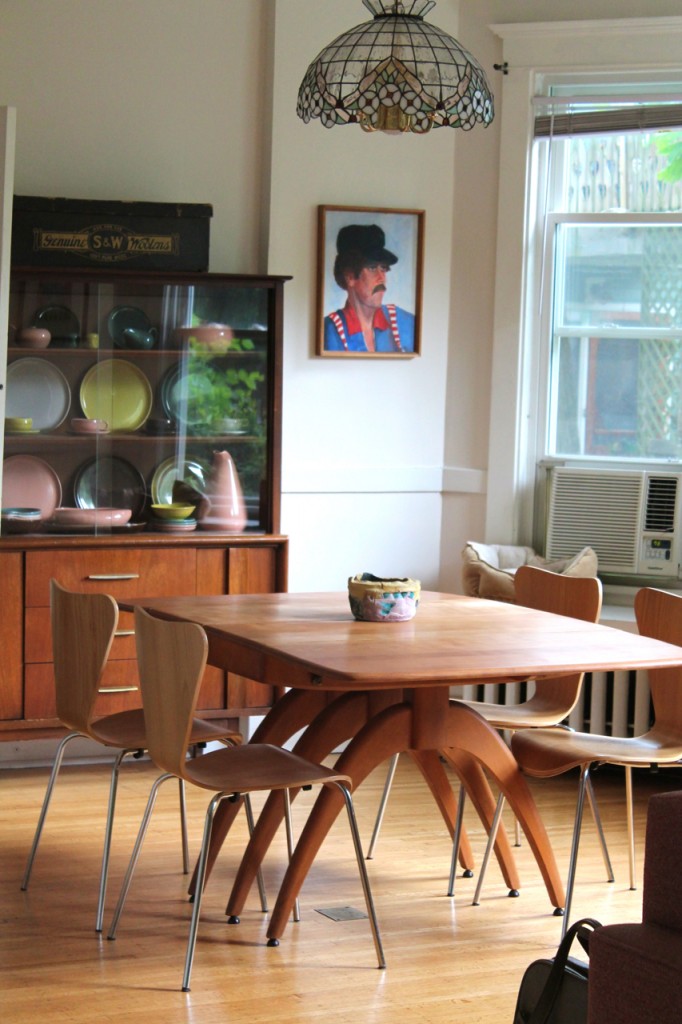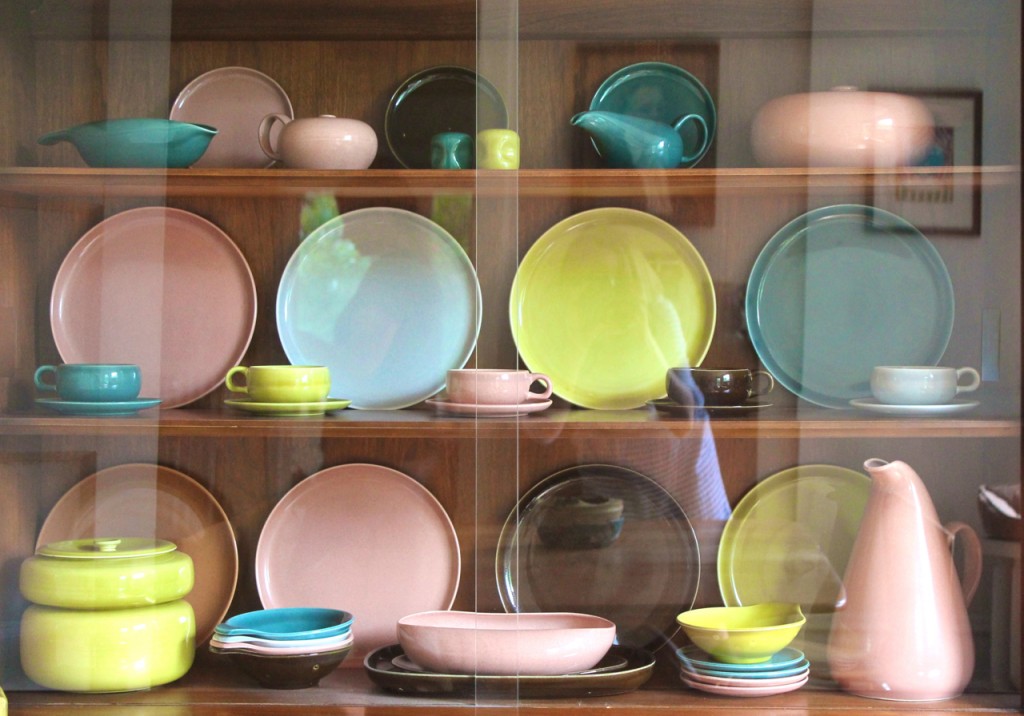 How do you keep your place so neat? Are there any cleaning products you can't live without? I'm not sure if the question would make my sister laugh, cry or cringe. Growing up she was always so neat and I was incredibly messy. We were roommates after college and I was still messy. She had to live with that for years! So, I have to give my husband all the credit here. He is extremely tidy. Living with him has made me realize I really like it neat too. I still have to fight against the mess and clutter I leave behind me, but I do make an effort. It also helps that our 10 year old seems to have inherited her father's tidy tendencies.
I like to use natural, environmentally friendly cleaning products. I recently looked up one of the products I had been using on the environmental working group's website (ewg.org) and was horrified to learn it scored a D! I will have that website open on my phone next time I shop for cleaning supplies. I can't seem to get Bilal to give up his Comet for cleaning the bathroom though. And Bilal can't live without his feather duster.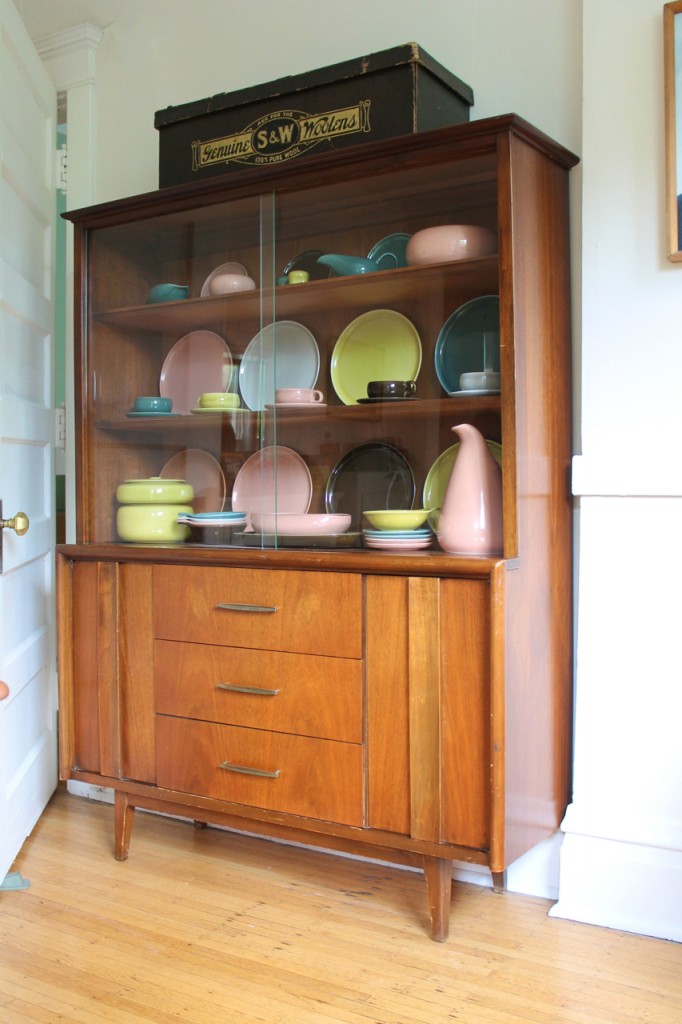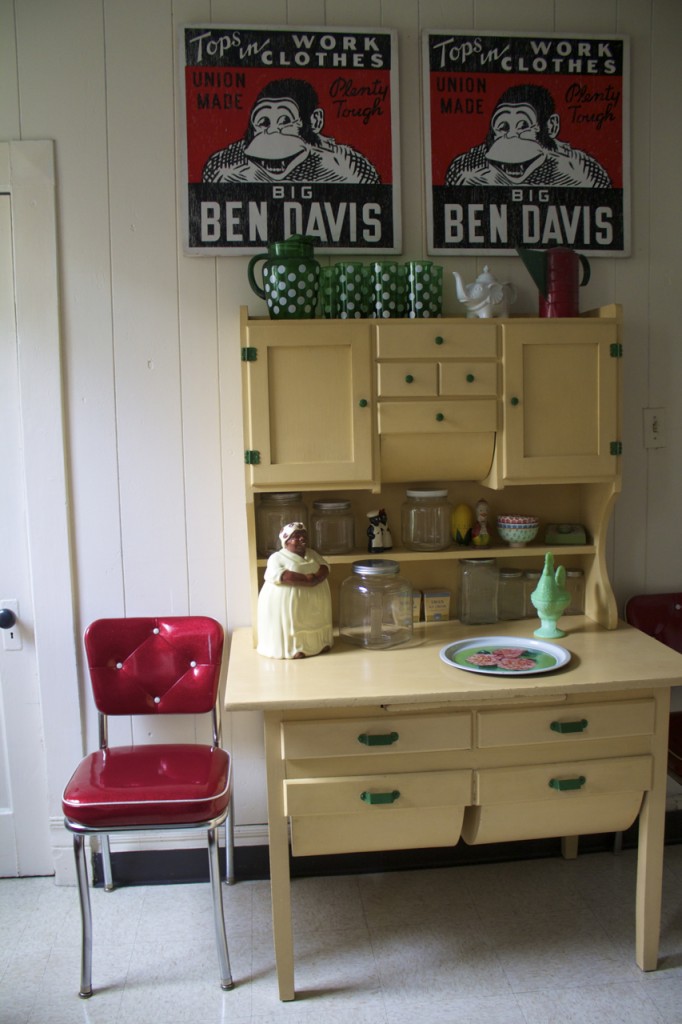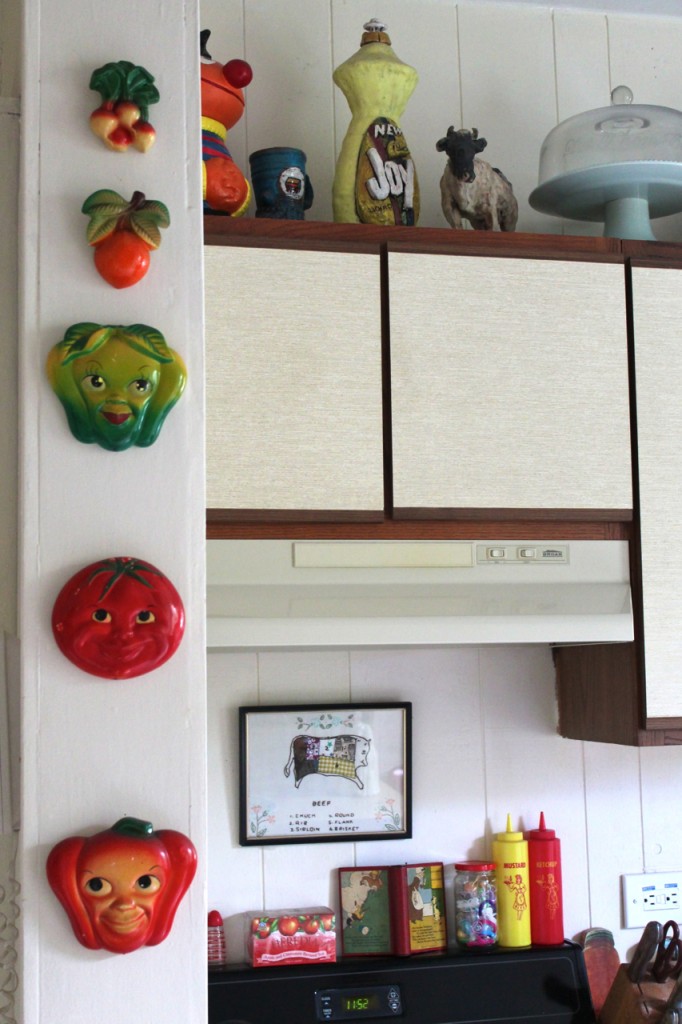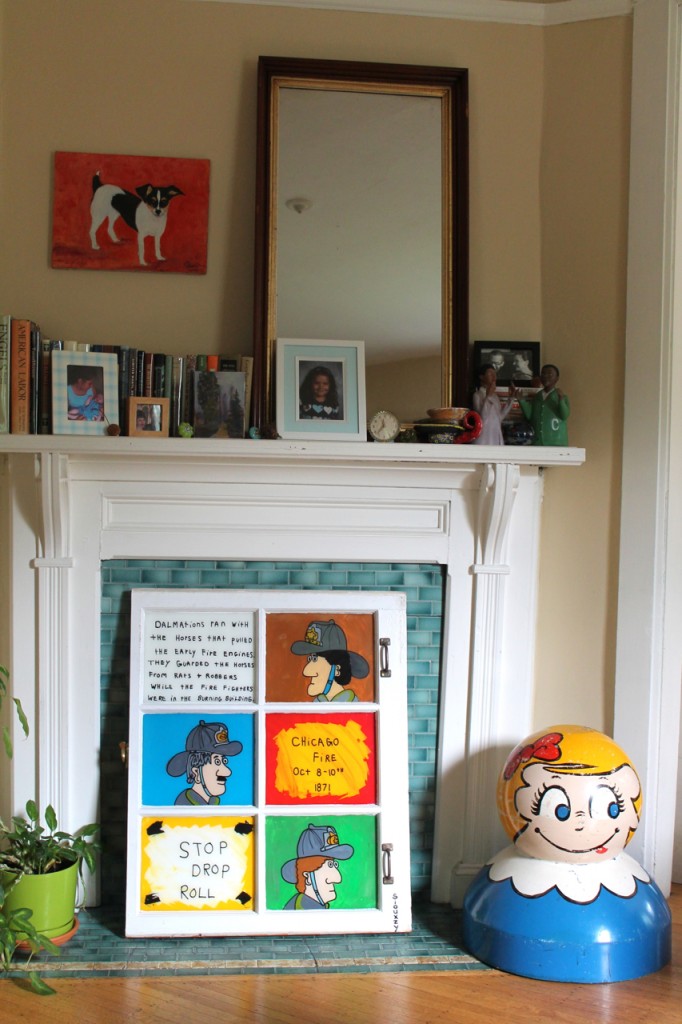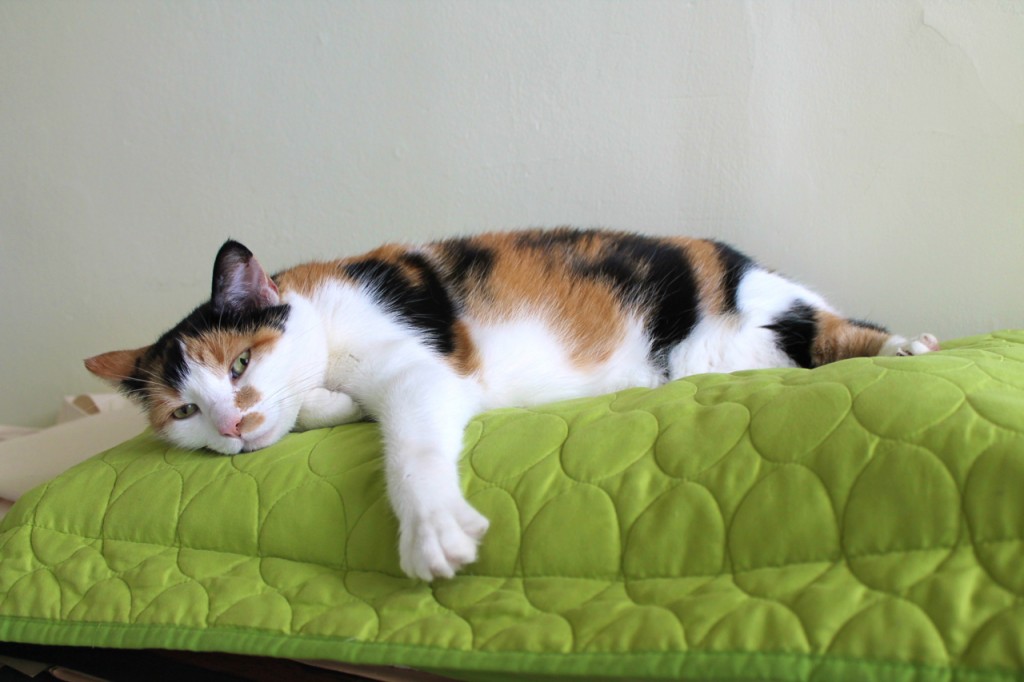 Which is your favorite room in your home and why?
Right now my favorite room is our screened in porch. Our porch faces west so sometimes it's just too hot to enjoy in the summer but it's been so delightfully cool this summer so we've been out there a lot. Plus we recently picked up some anti-gravity chairs. Have you ever sat in one of those? They are so comfortable. You can just lean back and look out at the trees and the sky. It's heaven.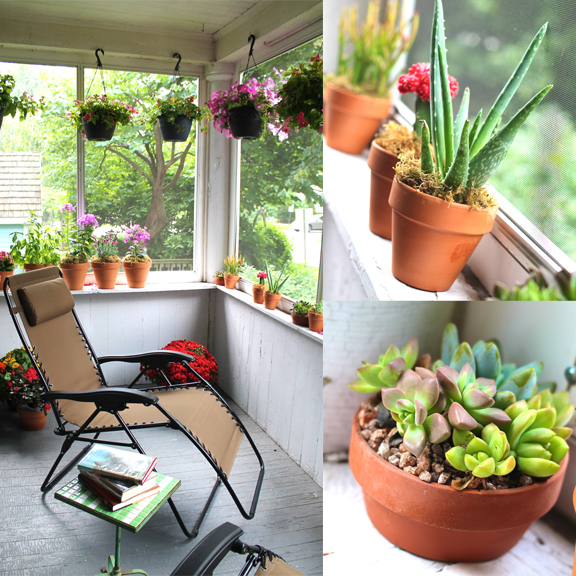 Favorite object or piece of furniture?
Did I mention the anti-gravity chairs? No. That's a tough one. There are so many things in our home I love. The ones I love the most I love because of the story or memory that comes with them. Like the puppets on the mantle Bilal rescued from a hospital dumpster. Or Sally Ann. Bilal and I spotted her at the same time from opposite ends of a thrift store and immediately made a beeline for her before someone else grabbed her. Or the Russel Wright dishes that were a wedding gift from friends of ours. Or the bowl on our dining room table that was made by a friend of mine in undergrad.
And then there's the books. This just wouldn't feel like our home without all of our books. Being the nerd that I am I counted them recently. There are over 2,000 in our home and over 600 of those are in Mia's room.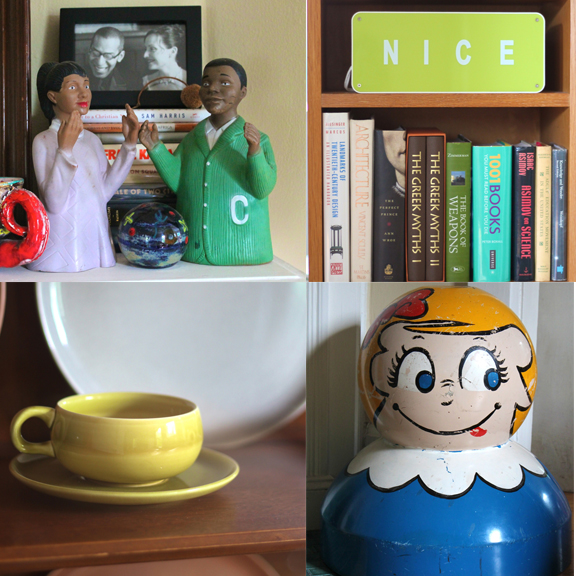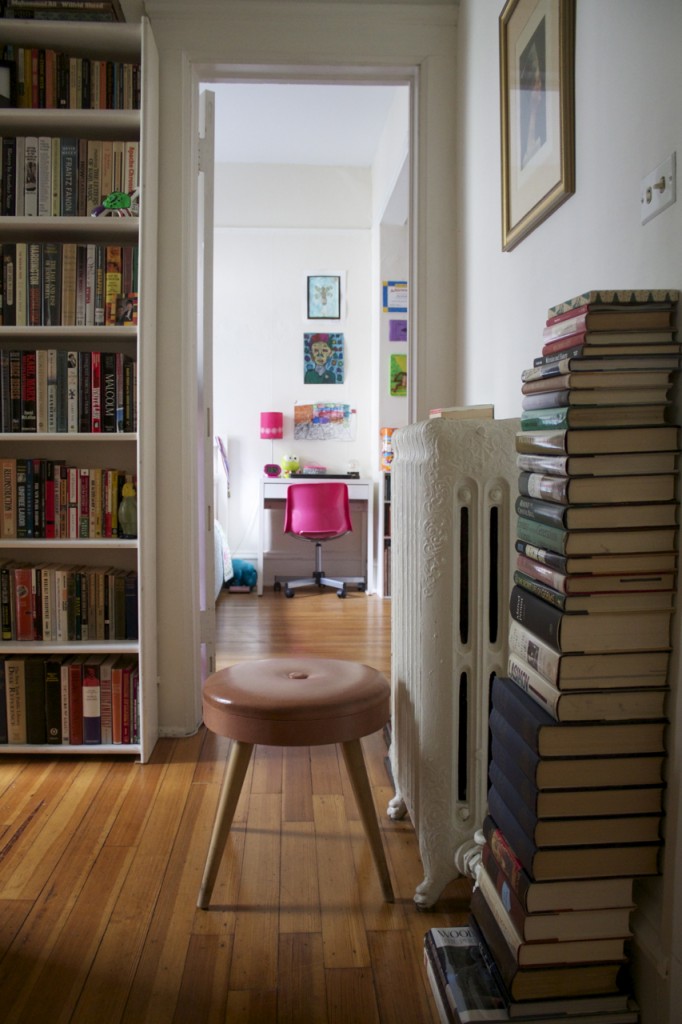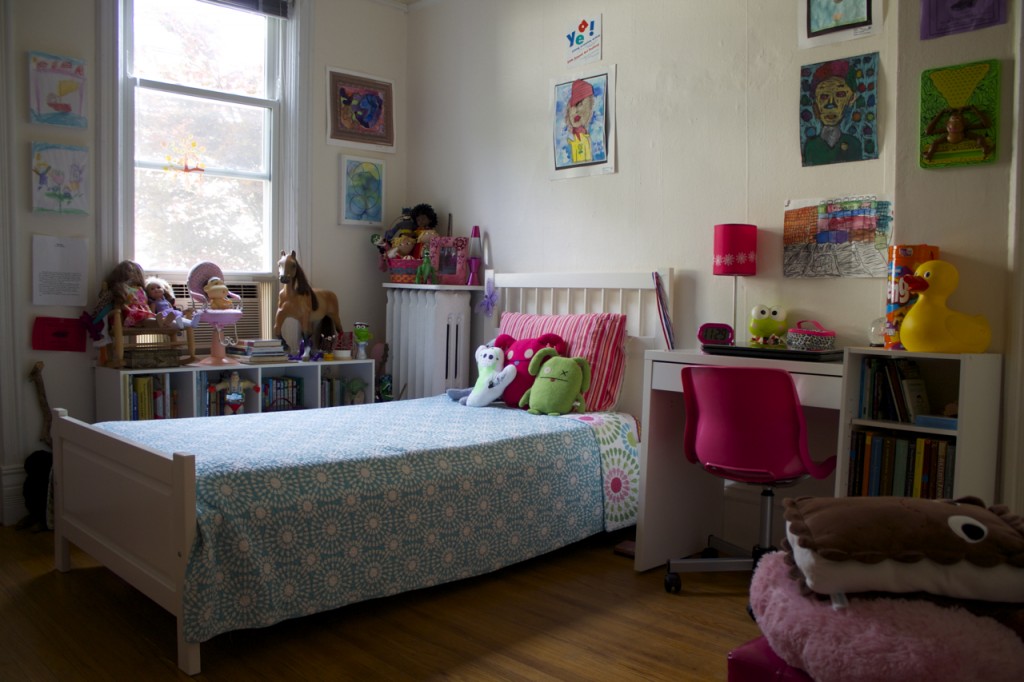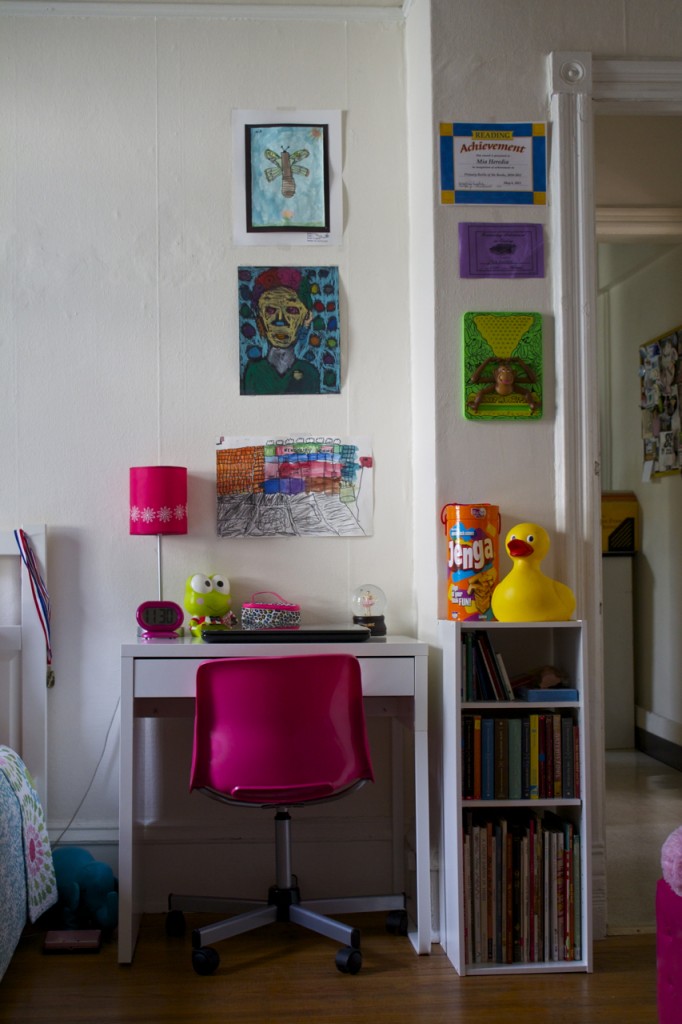 Your home is full of interesting objects, but it doesn't seem cluttered – how do you manage that?
I think both Bilal and I look at each grouping of objects like an art installation or a still life. We try and make sure the composition of the objects feels balanced, even when there are a lot of them.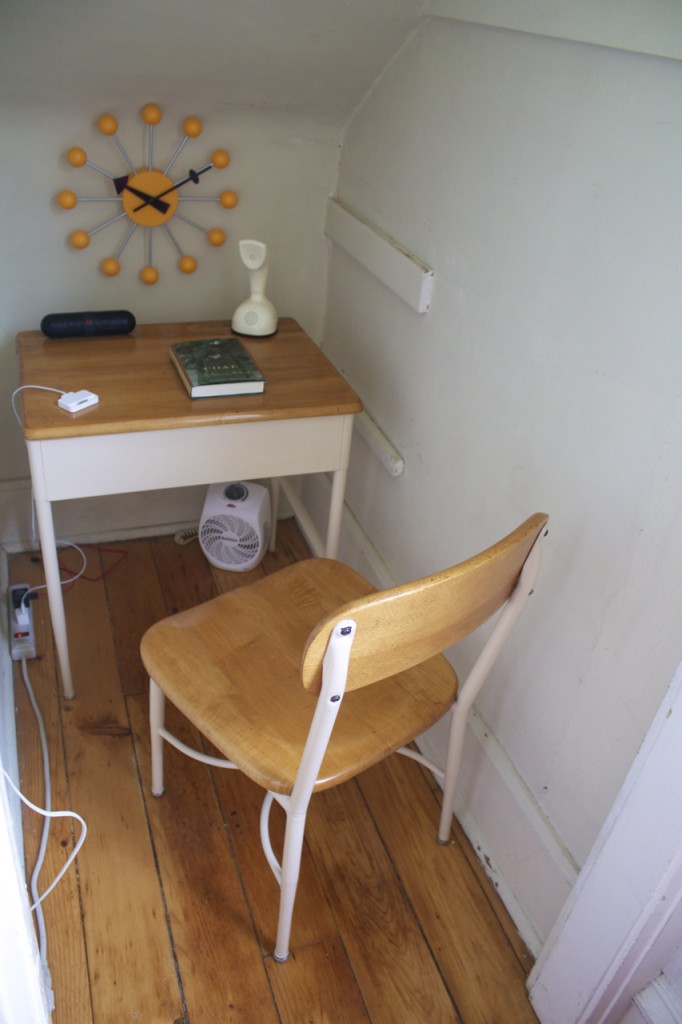 Do you all share the same taste or do you have to compromise?
 We pretty much share the same taste, which is nice. Bilal recently brought home some paintings that he found at Hadassah House resale shop in Highland Park and I was thrilled with them. That's usually how it works. I would say I value functionality over looks on functional items where Bilal would put looks first. I'm also the more frugal one and the polar opposite of an impulse buyer. If one of us is going to put the brakes on a purchase, it's going to be me.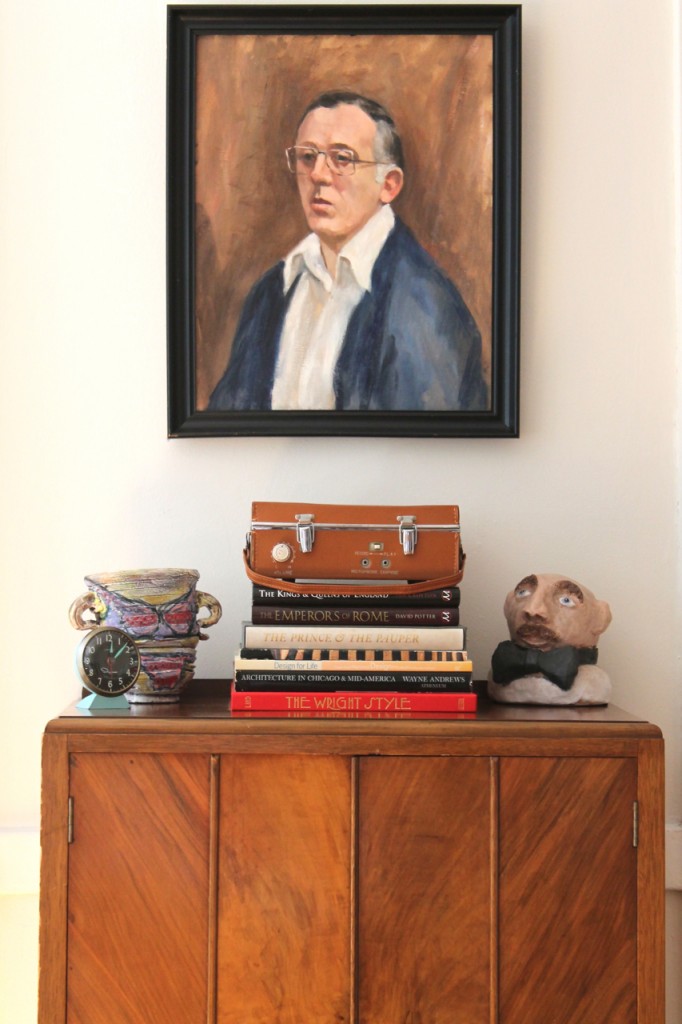 Where do you go for inspiration? (Pinterest, magazines…)
We get inspired going to thrift stores, resale shops and antique dealers. We find things we like and/or need and then bring them home and find a way to make them work in our space.
I also like to look at art on Etsy.
A million thanks to the Heredias for sharing their amazing home with me. If you'd like to have your home featured on Family Chic, shoot me an email at camilla@family-chic.com.