SUNDAY, AUGUST 23, 2009 | Comments:
0
Try Something Different – Serve up snacks that get snaps.
When it comes to serving up an after school snack – take a few minutes to make it a little more special and stylish with these easy tricks made from simple supermarket finds.
Single serve popcorn bags – made from paper lunch bags. Use as is or cut down to one third the size for easier access and write name on bag with a marker. Fill with homemade popcorn and serve.  For movie night – create fake movie tickets and money and allow your child to run the show.
Veggie Snack Carriers-
Having trouble getting your child to eat healthy foods? Sometimes all you need is a new presentation. These handled cups are fun to hold and simple to make. Punch two holes on either side of top of plastic cup and thread a ribbon through each hole and tie each end with a knot to prevent slipping. Fill bottom with ranch dressing and drop in sliced vegetables for dipping. Sliced pita bread with hummus is another healthy option that kids love. These are ideal for park trips and car rides.
Sometimes bigger is better. Instead of buying small peeled carrots in bags – try large carrots with their greens still attached (found in most grocery stores).  Many times these carrots are sweeter and crunchier.  I have yet to meet a child who can resist this type of rabbit food.
DIY Wax Paper Snack Bag
These are great for fruit or any snack that may hold moisture or grease. Have your child help you make the bags and you're giving them a basic lesson in origami as well.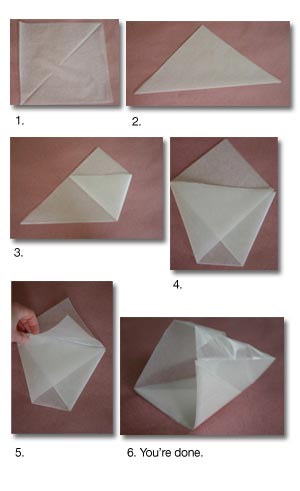 How to make it:
1. Using regular wax paper found in the food storage aisle of your supermarket – make a perfect square of about 10-12 inches – depending on how large you need the bag to be.
2. Fold in half on the diagonal.
3 & 4. With long side facing toward you – fold up both ends so they cross.
5. Split two top triangular pieces and fold down.
6. Open up bag and plump out – so that a pocket forms. Fill with snack and serve.
Pretzel Necklace
Somehow, this easy transformation is always a surprisingly big hit. Simply string a dozen or so small pretzels on cotton string (found in the grocery store) and tie ends together with a knot. Make necklace large enough to easily fit over head. These are also great for car and park trips – with one bite a pretzel is easily removed from cord.
Paper Plate Alternative
Instead of using a paper plate – try using a basket style coffee filter. I buy the unbleached kind – they are kinder on the environment and look surprisingly stylish.
Draw Your Child To The Dinner Table

A paper covering for the dining table transforms mealtime into a creative activity. A large roll of white or craft paper is something I always have on hand. Kids love to draw on large surfaces – so I roll out a sheet to cover my dining table whenever I have a few kids over for a meal.