TUESDAY, FEBRUARY 24, 2009 | Comments:
5
First in a series on making every day life more special with simple items you can find at the grocery store.
Floral Department Finds
Whether you're setting the table for a dinner party – or just want to add a bit of cheer around the house – consider the flowers available at your supermarket- you can create big style for very little cash. Potted Plants are great – they last longer than cut flowers and keep growing after you bring them home – so your arrangement will change with every day.
Plant Gift Bag
To make this Plant Gift Bag cut top 1/3 off of a favor bag (they look like colored paper lunch bags and are available for $0.25 in the gift wrap section of the grocery store) and punch holes around the top about 1 or 2 inches apart. Thread a ribbon through the holes and tie with a bow and card. Keep plant in cellophane wrapping – but roll down and tuck in edges so that it is no longer visible. Keeping the wrapping on the pot will provide a protective layer between the paper bag and plant – this will prevent water from soaking the outer bag. Top off with moss and you are done.
I picked up these potted tulips at my local grocery store for under $6.00. Originally, they were wrapped in the typical green cellophane paper used in most floral departments. Reusing the brown shopping bag I brought it home in – I made a new covering and transformed these beautiful tulips in to something more stylish for no additional charge. To make this brown bag cover – cut down shopping bag so that the height of the bag is the same as the height of the pot you are trying to cover. Make a cut down the center of bag and keep cutting across the bottom section. With a hole puncher, punch holes down the vertical edges of bag. Keep cellophane wrapper on potted plant – but cut off top edges or fold down so it does not stick up past the brown bag. Place plant inside cut bag and wrap it around the sides until it is fully covered, tucking bottom section underneath. Thread plain string, twine or ribbon through the holes and circle around bag as you go up. Tie up ends of string and finish with a knot.
Potted Primrose
To achieve a look that is  strong in color and  spirit – Primrose are perfect. These usually come in smaller 3″ diameter pots – and are priced to sell at under $1.00 each. At such a low price you could afford to give these as party favors at a bridal or baby shower. Search garage and estate sales for small inexpensive vessels to put them in and you'll have a token gift that will be a huge success and is kind on the environment.
One pot of daffodils – 2 different options…
For me, Daffodils are the embodiment of Spring. No other flower can shake off the winter blues faster than this cheerful member of the Narcissus family. In my home, I am constantly rotating daffodils in and out of vessels in almost every room from January until the end of April. I purchased this plain pot of daffodils at my local grocery store for $4.99. I will show you two ways to transform this basic pot of forced bulbs into a small treasure.
Look #1- Break it down.
This is style perfect for a Sunday brunch – you could line the center of the table with these lovely goblets or put them at each place setting with name tags tied around the stem of the goblet.
To get this look – release plant from pot and use fingers to separate each bulb from the clump – be strong – but careful not to damage too much of the root system. Once bulbs are separated, drop them into 4 vessels of your choice – they can be matching or different – but similar in size. A container of 8oz. or larger is best for this project. Use loose remaining soil to fill in roots and add 1-2 tablespoons of water to each to refresh plant. Cover top of soil with moss and you are done. This is easy and affordable elegance.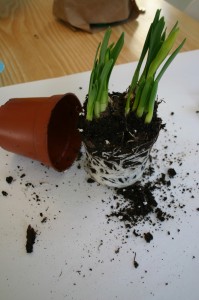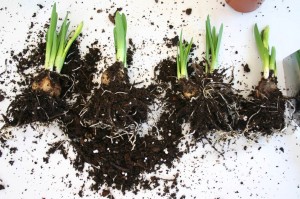 Look #2 – An Ideal Hostess Gift.
Your host or hostess will be delighted when you show up with an arrangement that is ready to put on the table straight away. Instead of bringing cut flowers that will need to be re-cut and placed in a vase – show up with a finished centerpiece. Daffodils were transplanted from plastic container and dropped in an old pewter bowl. I covered the top of the soil with moss and attached a homemade thank you card.


That same pot of daffodils – placed in my old ironstone gravy boat and surrounded by moss makes a cheerful arrangement that is truly one of a kind and easy on the wallet.
Don't forget the produce section!
Fruit and vegetables are just as beautiful as flowers – browse your supermarket for any fruit or vegetable that appeal to you and buy a lot of it. Fill small or large vessels around the house and you'll feel the same lift that one can get from flowers. I love yellow and green – so lemons and green apples are almost always in my home – but so many options are out there – pomegranate, eggplant, artichoke and even a bunch of fresh carrots or beets are all suitable for a stunning still life. The key to saving money is this – if you are filling a larger vessel (that is opaque) stuff the bottom of it with crumpled newspaper or fit the top with a tray and rest your fruit or vegetable on top of that. To fill an entire vessel would cost too much. Also – be sure to rotate your fruit every day – just a quick rearrangement can prevent mold from forming too quickly.
Don't forget to use fruit with your flowers or foliage … play with what you like and you'll find that adding fruit to your design adds interest and originality.
Also in produce…Potted and cut packaged herbs for less than $4.00 can work for you outside of the kitchen.
Many times you can find potted or packaged herbs in the produce department. I love herbs and use them in a variety of ways. In this photo – a place card is infused with thyme. Simply punch two holes in card with a hole puncher (about 1/2 an inch apart) and weave your cutting through the holes. This can be done with any herb -also small cut flowers or a small twig works well for a fall gathering.
My supermarket regularly sells wheat grass in their produce section. I can find it there all year long. When I am looking for something different – I pick up a couple of these and drop them into a number of different vessels around the house. My kids love having these "little lawns"   in our home – and can't resist the urge to run their hands over the tops of the blades of grass. Since these plants are usually sold in square pots – you'll need to find square containers to fit them flush against the edge – which makes the look even more attractive. Keep your grass arrangement moist and trim with scissors every few days to keep it  fresh looking.
Kale and Rose Centerpiece
Often I find more attractive greenery for my centerpieces in the produce section. Instead of the traditional fern fronds try a more interesting filler like Kale leaves – found in the lettuce section. Make a fresh cut so the leaves can take in water and use with a floral frog to get best placement.
These are just a few of my ideas. Be sure to check back for more posts that are soon to come. I hope that I have inspired you to make simple beauty a part of your day, every day. I believe it is an important way to celebrate the gift of life!
Enjoy!
Camilla